Sephardic Silver Ornate Yemenite Shofar ** Special Low Price 2018 **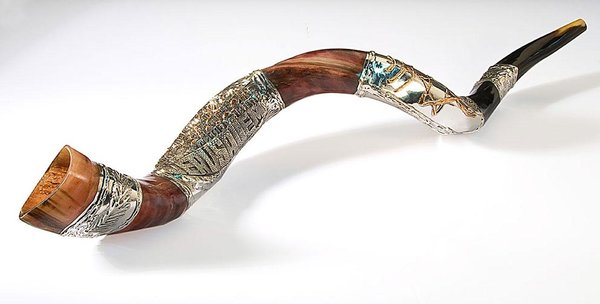 Sephardic Silver Ornate Yemenite Shofar ** Special Low Price 2018 **
One of the most beautiful Yemenite Shofars you will ever see. The artist has done a great job covering the Shofar with ornate designs. Scenes of Jerusalem and the name Jerusalem are prominently featured on the shofar. as well as gold Judaic symbols.
It comes with a carrying bag to protect it

Specifications:
- This Shofar comes in 3 different sizes XL , 2XL, 3XL so please select from the drop down menu. They also come with an attractive carrying bag and polishing cloth.
Shofars are measured from end-to-end following the curve. Yemenite Shofars are kosher, and organic from the KUDU antelope and vary in color, texture and finishing. Each one is tested before shipped to make sure there are no blockages.

Español:
Uno de los shofars yemenís más hermosos. El artista ha hecho un gran trabajo al cubrir partes del shofar con diseños de adorno. En el shofar se pueden ver escenas de Jerusalén y el nombre de Jerusalén escrito en el shofar, así como símbolos judíos en oro.

Especificaciones:
- Este shofar viene en tres tamaños XL, 2XL, 3XL

All Prices in US Dollars / Todos los Precios en Dólares
PLEASE NOTE:
Special care has been taken by our expert of the shofar to ensure that you are getting a good shofar. Any imperfections caused by nature is not our responsibility should there be scratches, worm holes or dis-layering cracks our Shofar expert will do his best to smooth repair the affected area. This will not in any way affect the sound quality of the Shofar. Due to hygienic reasons we are not allowed by law to have a shofar returned to us unless an extenuating circumstance has occurred during transit of which is generally covered by shipping insurance.