Ram's Horn Shofar 20" - 22"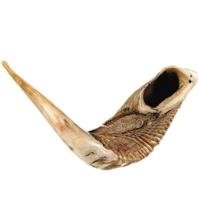 Ram's Horn Shofar 20" - 22"
What you are about to view is a fundamental tenet of Judaism-the Shofar (Ram's Horn). It is with the Shofar that we confuse the evil one. It is the Jewish battle cry, the instrumental herald of the Messiah.
Photo is similar but may vary in color and texture as no two horns are alike.
El Shofar Cuerno de Carnero es que utilizamos para confundir al enemigo.
PLEASE NOTE:
Special care has been taken by our expert of the shofar to ensure that you are getting a good shofar. Any imperfections caused by nature is not our responsibility should there be scratches, worm holes or dis-layering cracks our Shofar expert will do his best to smooth repair the affected area. This will not in any way affect the sound quality of the Shofar. Due to hygienic reasons we are not allowed by law to have a shofar returned to us unless an extenuating circumstance has occurred during transit of which is generally covered by shipping insurance.
Note: No two horns are alike so they may differ in color and texture from the one shown above.