Exceptional Professional Yemenite Shofar - Med 42" - 44" SPECIAL PRICE FOR 2018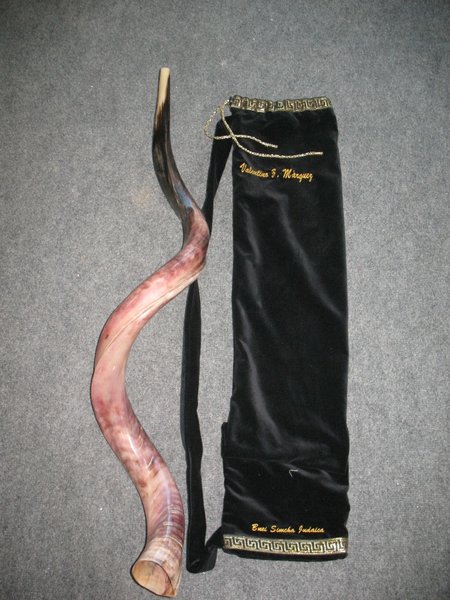 Exceptional Professional Yemenite Shofar - Med 42" - 44" SPECIAL PRICE FOR 2018
High quality Professional Exceptional Sounding shofars made in Israel. The best Yemenite Horn Shofars, every shofar is checked twice before shipping, by the manufacturer as well as by our own shofar expert All the shofars have gone through a strict veterinarian sterilization process. All our Yemenite shofars are made in Israel and honed properly for easy blowing and fullness of sound. In stock here in the USA a ready for shipping. All Shofars have been tested All the shofars meet all Jewish Laws. It is with the Shofar that we confuse the evil one. It is the Jewish battle cry, the instrumental herald of the Messiah. It is the voice of God calling all to an assembly. It is used to invoke the presence of Yahweh. Even children are able to get the most beautiful sound out of the horn. Shofarim vary according to different traditions, the more well-known among them being the Yemenite Shofar, which vary by size.
These professional Yemenite shofars provide superior sound quality capable of reaching a minimum of 5 scales of notes up to 8 scales of notes. They are fully polished to produce a crisp and vibrant sound quality. A professional trumpet player or musician would sound this horn and it comes adorned with a special shofar velvet bag with an embroidered
This Shofar is finely tuned by our own expert Maestro of The Shofar V. Zach'Riah Marquez

You can expect up to 7 notes with this Shofa
r
Notes:
D4 +01 cent, 293.83hz; A4 -16 cents, 435.95hz; D5 +25 cents, 696.87hz; F#5 +04 cents, 741.70hz; A5 +22 cents, 891.25hz; C6 -29 cents, 1029.12hz
Side Blow: D4 +12 cents, 295.71hz; A4 -17 cents, 435.70hz; D5 +06 cents, 589.37hz
This one of a kind shofar is a work of art. This shofar is from our professional series of shofars with a Gold Mogen David decal. If you're looking for something no one else has, It is truly a one of a kind. Others may claim to have these but no one can beat our price on these exceptional professional shofars.
Each Shofar is unique and will vary from the pictures shown
ESPAÑOL: Todos los Shofares cumplen con ley Judia, Tamaños son aproximados, Colores pueden variar, No hay dos Shofares que sean igual de parecidos..*
Size / Mide: 42" - 44"
PLEASE NOTE:
Special care has been taken by our expert of the shofar to ensure that you are getting a good shofar. Any imperfections caused by nature is not our responsibility should there be scratches, worm holes or dis-layering cracks our Shofar expert will do his best to smooth repair the affected area. This will not in any way affect the sound quality of the Shofar. Due to hygienic reasons we are not allowed by law to have a shofar returned to us unless an extenuating circumstance has occurred during transit of which is generally covered by shipping insurance.