Pink 100% Italian Organza w/ Embroidered Pink & Silver Attarah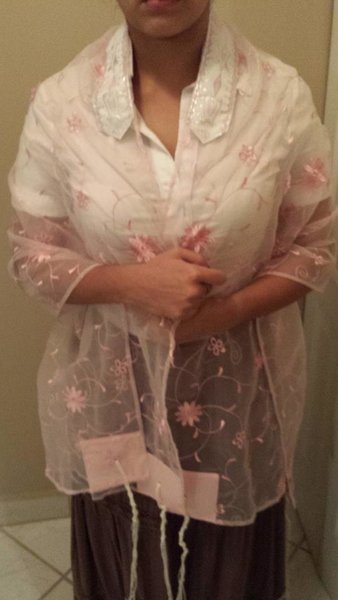 Pink 100% Italian Organza w/ Embroidered Pink & Silver Attarah
Pink 100% Italian Organza w/ Satin Embroidered & Silver Attarah

This graceful tallit is a beautiful way to express your Judaism as well as your personal style. The tallit of pink organza is fully embroidered with a rich floral pattern in pink tones, with a contrasting neckband and corners.The gorgeous tallit comes with a matching bag.
What a wonderful and meaningful present for a Bar or Bat Mitzvah, birthdays, or for any Jewish Holiday!
Tallit Set is Hand-Embroidered by Zach'Riah.
Organza Pink Leaves with matching Tallit Bag
Size: 22"x72".
Notes: This particular tallis is hand made by Zach'Riah and it's available to ship right away