Mezuzah Holder White Plastic or Lucite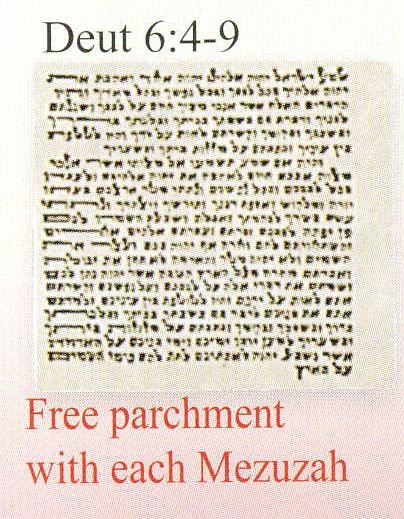 Mezuzah Holder White Plastic or Lucite
The Jews have been putting a Mezuzah on the doors of their houses since Biblical times. We read the commandment on the mezuzah every time we read the Shema: "[these words] sign on the doorposts of your House and on your gates".
The Mezuzah reminds us of our relationship with God whenever we leave our houses and each time you return. Practically anything can be made a mezuzah: glass, wood, plastic, ceramic, clay, metal, but no matter what is done, the important part of the mass is the parchment inside.
The scroll contains two passages of Deuteronomy:
The first step is the first paragraph of the Shema (Deuteronomy 6:4-9),
The second is the second paragraph of the Shema (Deuteronomy 11:13-21)
That not is usually recited in services reform. Both of these passages contain the commandment for the placement of a mezuzah.
To be kosher, these passages must be written by hand on parchment.
However we do have a computerized parchment that is NOT permitted as reference only that is free but the decision to purchase a Kosher one is in your hands.
You can get scrolls KOSHER for approximately $31.00 in a Judaica store near you.
It is best for the homeowner to affix the Mezuzah and say the blessings. If that is not possible, any Jew, who understands the details, may affix the Mezuzah on the homeowner's behalf.
We will send you an Instruction sheet on How to install a Mezuzah and the Berachot that you will recite.
Español:
Los judíos han estado poniendo mezuzot en las puertas de sus casas desde tiempos bíblicos. Leemos el mandamiento sobre la mezuzá cada vez leemos el Shemá: "inscribir [estas palabras] en las jambas de tu casa y en tus puertas".
El Mezuzah nos recuerda nuestra relación con Dios cada vez que salimos de nuestras casas y cada vez que volvemos. De prácticamente cualquier cosa se puede hacer una mezuzah: vidrio, madera, plástico, cerámica, arcilla, metal, pero no importa de qué está hecha, la parte importante de la misa es el pergamino dentro.
El pergamino contiene dos pasajes de Deuteronomio:
El primer paso es el primer párrafo del Shema (Deuteronomio 6:4-9),
El segundo es el segundo párrafo del Shema (Deuteronomio 11:13-21)
que no es generalmente recitado en servicios de reforma. Ambos de estos pasajes contienen el mandamiento para la colocación de una mezuzah. Para ser kosher, estos pasajes deben estar escritos a mano en pergamino.
Puede obtener pergaminos KOSHER por aproximadamente $ 31.00 en nuestra tienda online.
Le enviaremos instruccion de como instalar su Mezuzah acompañado con el Rezo que debe de recitar.