Blue Gradient 100% Italian Silk Chiffon w Talis bag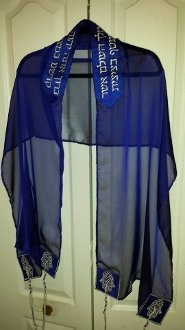 Blue Gradient 100% Italian Silk Chiffon w Talis bag
Blue Gradient 100% Italian Silk Chiffon w Talis bag
This 100% Italian Silk Blue Chiffon Gradient Blue to Blue Irradescent Tallit Set is Hand-Embroidered by Zach'Riah.
The fabric on this tallit set is made of 100% Silk Chiffon with Silver Blue Hamsa corners. .As to whether it is appropriate to use the Hamsa with the fingers pointing up or down, it depends upon whether you wish for protection against the evil eye, or for luck and success. With the fingers pointed down, the Hamsa symbolizes God's goodness and blessings coming down to the wearer or to the room where it is hung.
The interpretation of the Hamsa is for the individual who owns it. For those interested in numerology, the word "Hamsa" means five, which is a prime number. The number five is a powerful number symbolizing protection, power and good fortune. The fifth letter of the Hebrew alphabet is "hey," which means "Adonai" (God). The word "yad" (Hebrew for "hand," the shape of the Hamsa) has the number 14. If you take the number 14 and view it as 1 plus 4, it equals 5, the number for Adonai. & Attarah embroidered
Set includes tallit Bag Size: 20"x72".
Notes: This particular tallis is hand made by Zach'Riah and will take about 14 days to complete.